Unlimited Cell Phone Plans
Saturday, March 24th, 2012 at 6:09 pm
Please Click!
Unlimited Prepaid Plans are for cell phone power users: people who use more than 1,000 minutes a month. I've ranked them on:
price
reception and coverage
ease of use
data coverage.
Note on data: These are all basic unlimited prepaid phone plans and some don't provide data for smartphones.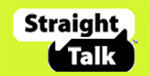 Straight Talk



$45 a month
Straight Talk offers unlimited minutes, text, and web access for $45 a month. It's a very straightforward plan and simple to set up. You can buy a phone online and then set up an account to charge your credit card every month. You could also do what I do and just go in to Wal-Mart every month and buy a Straight Talk phone card. There are no hidden fees or extra charges. Data is unlimited and is provided at fast 3G speeds. Straight Talk uses all 4 cell phone networks: Verizon, Sprint, AT&T, and T-Mobile (click here for more on how to tell which straight talk phone uses which network.) I've tried many of the plans on this page and I personally use Straight Talk. It's just so simple, cheap, and the coverage and reception are fantastic.
Website: Visit the Straight Talk Website

MetroPCS



$40 a month
MetroPCS is the cheapest unlimited minutes cell phone plan in the country. It's very similar to Straight Talk in that all you need to do to set it up is buy a phone, then start buying phone cards every month. Data is unlimited, but only the first 500 MB is delivered at 4GLTE speeds. All subsequent data is delivered at 3G speeds. As the name implies, MetroPCS was originally developed as a cell phone provider in metropolitan areas. They have networks built up in cities across the country, but coverage in rural areas is lacking. The reason it's not rated higher is that the reception and coverage can be lacking depending on your location. They are building up their network, but it may be many years before they offer the coverage that other carriers do.
Website: Visit the MetroPCS website.

Net10



$50 a month
Net10 has unlimited talk, text, and web for $50 a month. They sometimes offer online specials for $45, but you have to set up an account and tie it to a credit card to get that pricing. The coverage and reception are good. The plan is structured very much like MetroPCS and Straight Talk; straightforward and no hidden fees (unlike Verizon). Overall it's a very good plan, but it's more expensive than others.
Website: Visit the Net10 website.

Verizon



$50 a month
Verizon offers their unlimited plan for $50 a month. That price is comparable to many of the other carrier's plans. The coverage is fantastic, too. Verizon has the best cell phone network in the country and you can get a signal almost anywhere. The downside to Verizon prepaid service is in the fine print. There may be a $35 charge to activate your phone (online purchases offer free activation). If you let your service lapse without refilling your account at the end of the month, there may be a $35 re-activation charge. If you carry a balance to refill your minutes, and your balance expires: "Any balance remaining at expiration will be removed from the account." Verizon will "expire" your balance meaning your balance disappears out of your account and into Verizon's bank account.
Website: Visit the Verizon Wireless website.
Filed under: The Best Plans
Like this post? Subscribe to my RSS feed and get loads more!